The Invisalign system is a series of clear aligners used to straighten teeth.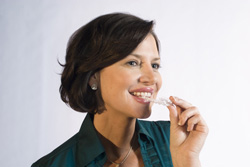 How Does Invisalign Work?
Each set of aligners are worn for about two weeks, removing them only to eat, drink, brush, and floss. As you replace each aligner with the next in the series, your teeth will move - little by little, week by week - until they have straightened to their final positions.
Are they invisible?
Invisalign trays are almost invisible. Chances are no one will even notice anything is different, until your new smile is revealed, of course.
How long do you have to wear them each day?
20 - 22 hours a day
Can I just use the Invisalign braces while I sleep?
No - you need to wear them 20 - 22 hours each and every day for results.
Do you eat with your Invisalign braces on?
No, you take them off to eat, brush your teeth and to floss.
How long does the process take?
The average case takes about 12 months for adults. For teens it can be less, but you should talk to Dr. Robertson, who is a Premier Invisalign Provider, to find out what could be expected.
Are Invisalign braces uncomfortable?
They are usually painless, although some people have minor temporary discomfort for a few days at the beginning of each new stage of the treatment.
How often do I have to see the orthodontist during my treatment?
About once every 8 weeks to check and ensure that the treatment is progressing properly.
Schedule your initial consultation!
Contact Robertson Orthodontics in Allen TX orthodontic office at (972)363-8020 to find out more and get a complimentary evaluation appointment!